I first met Sarah Darer Littman when I attended an event for young adult and middle grade writers at the Ferguson Branch of the Stamford Library in Stamford, CT many years ago.  I don't remember the topic of the talk that day, but I do remember thinking Sarah Darer Littman was a very entertaining person and I wanted to read her books! I picked up a copy of her middle-grade novel CONFESSIONS OF A CLOSET CATHOLIC that day, which I thoroughly enjoyed.  When her young adult novel PURGE was released, I quickly bought it. It was very different from the middle grade novel- but an extremely powerful read that I could not put down.

These days, I am thrilled to be able to call Sarah a friend. She has two (yes 2) books coming out this fall: CHARMED I'M SURE and IN CASE YOU MISSED IT. I am looking forward to attending both of those book launches in the weeks to come (more on that below!) And I am delighted to welcome Sarah to Not Even Joking this month for a Creative Minds Interview!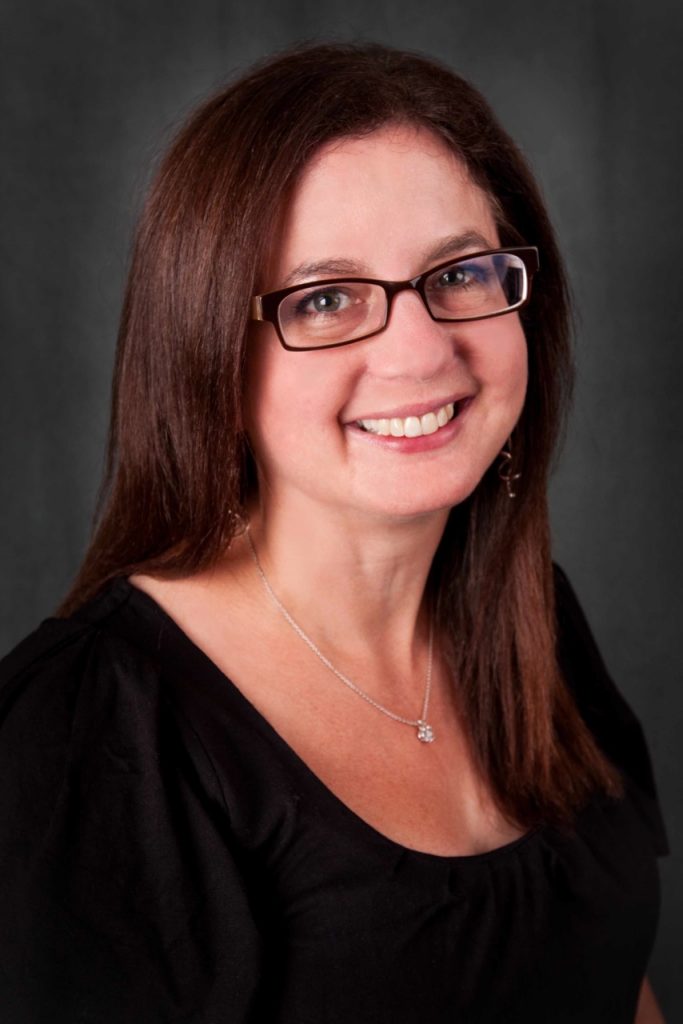 Sarah Darer Littman is the critically acclaimed author of BACKLASH; WANT TO GO PRIVATE?; LIFE, AFTER; PURGE; and CONFESSIONS OF A CLOSET CATHOLIC,  winner of the Sydney Taylor Book Award. When she's not writing novels, Sarah is an award-winning columnist for the online news site CTNewsJunkie. She teaches creative writing as an adjunct professor in the MFA program at Western Connecticut State University, and with Writopia Lab. Sarah lives in Connecticut.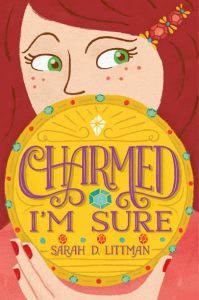 Thank you so much for joining me this month on Not Even Joking. You have two books coming out this fall! Wow! CHARMED I'M SURE, a middle grade novel, will be out September 27th. You've called this your "if at first you don't succeed"novel. I love the story of how this novel came into being. Could you share it with my readers?
CHARMED is my "If at first you don't succeed try again…and again…and again…and again" novel. The original inspiration for the novel happened when I was watching the Disney Cinderella video with my then nursery-school age daughter (said daughter is now going into her junior year of college, so this gives you an idea of just how long this idea has taken to come to fruition!). Things weren't going so well in my marriage, and as I watched the final image of Cinderella and Prince Charming going away in the rear window of the Pumpkin coach to live "Happily Ever After" I sat there with my daughter snuggled up next to me thinking "Why am I letting my daughter watch this garbage? What really happens is that Cinderella ends up doing all the work around the castle and Prince Charming takes her for granted!"
I'd only just recently given myself the permission to follow my high school dream of being a writer after spending my entire life doing what everyone else expected me to do, and I was writing a much too autobiographical adult novel about a woman who was unhappy in her marriage. In one scene, she drinks too much chardonnay one night and burns all of her young daughter's Disney videos because she doesn't want her daughter to grow up believing in all the Prince Charming as savior stuff. I would like to note for the record here that a) this did not actually happen, and b) I don't even like chardonnay.
After my first novel, CONFESSIONS OF A CLOSET CATHOLIC came out I went through a dreadful second book blues period. One of the many, many, many books that I proposed and had rejected was a "real story of the Princesses" idea. The Princesses were mad about how their stories had been Disneyfied and became radicalized. I think the idea was little too radical.
I still wanted to write about this though. It never left my mind. About nine years later, I had the idea to write the story from the perspective of their daughters. I LOVED this idea. I loved it SO, SO much. I wrote 10,000 words in no time. But I thought it had to be Olde Worlde Fantasye. I sent my words of love off to my wonderful agent, Jennifer Laughran to get her thoughts, expecting her to call me back telling me that I was a genius and that she was going to sell it for a gazillion dollars with film rights. I was imagining myself actually taking, yanno, a vacation! I could practically taste the umbrella drinks!
ahahahahahahahahahahahahahahahahahahahahahahahalolololololololololololololololololololololol
I love Jenn because she tells it to me like it is – and what she told me was: "Honey, if you want to write this book, you need to go to fantasy boot camp."
At that point I did what I always do when I get bad book news. I allowed myself a time-limited pity party wrapped in my Snuggie eating chocolate on the sofa. Then I got on with writing the next book, the one that would sell and in fact has sold really well – BACKLASH.
But I still wasn't ready to give up on the idea. One day, I was whining about it (what me whine?) to my friend Cindy Minnich, and like all brilliant teachers, she asked me just the right question: "Why does it have to be Olde Worlde Fantasye? Why can't it be contemporary?" I told her she was a genius, offered her my first-born child, and set off to rewrite the idea to my strengths.
This time when I sent it to Jenn, she loved it. Not only that, she sold it to Simon & Schuster in a two-book deal. FAIREST OF THEM ALL, which tells the story of Sleeping Beauty's daughter Aria, comes out in May 2017. As Winston Churchill (one of my oratory heroes, who shows up in my other book coming out this fall) said: "Never give in, never give in, never, never, never, never-in nothing, great or small, large or petty—never give in except to convictions of honour and good sense."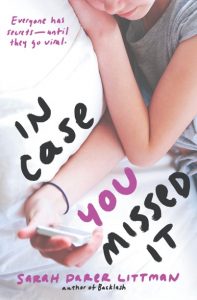 Your YA novels tackle some very serious topics: terrorism, cyber-bullying, eating disorders. Where do you find inspiration for these topics? What inspired your latest YA novel, IN CASE YOU MISSED IT?
I'm a political columnist as well as an author, so by necessity I'm very tuned into what's going on in the world. My parents also brought me up to be that way. Inspiration is everywhere, but you have to be tuned in to the world to pick up on it. It's also important to be able to see patterns and synthesize ideas from disparate fields and sources.
Literature is a wonderful way to create discussion about serious and difficult topics. That's one of the reasons I get furious when parents try to ban books. It says much more about their own problems being having good, healthy, conversations with their children than it does about the books. As far as I'm concerned, if a parent is trying to ban a book from a library, it's because they are trying to abdicate their own job as a parent.
IN CASE YOU MISSED IT was inspired by some very high-profile hacking cases, where we saw how public personas didn't always match private conversations. It made me think about things that I've texted to my significant other when venting in frustrating about a situation that could be totally misperceived. We communicate online under an illusion of privacy, but there is no privacy. What has always fascinated me the most, though, are the secrets we keep from the people living under our own roof.
What do you think the biggest difference is in writing middle grade vs. young adult literature? What are the similarities? How are you able to switch between the two?
The two biggest differences are language and situations. It was interesting because part of my second book blues was that both my then agent and editor were telling me I "didn't have a YA voice" and I should write even younger than Jussy, the main character in CONFESSIONS. But two things came into play. Firstly, I knew that some of the stories I had inside of me (for example, PURGE), by their nature and subject matter had to be young adult. But here's the true reason that I have a YA voice: the more they told me I couldn't write YA, the more I was like, "Oh yeah?! I'll show you!"  Five YA novels later, it's apparent that my inner teen is alive and well!
It's easy for me to switch between the two because I'm writing in such completely different styles – my middle grades allow me to reveal my more light-hearted, humorous side, and my YA's are more serious and edgy, although still with a soupçon of humor. Humor is what helps me get through the dark times in my life, so I try to incorporate it into my novels.
What else gets you up in the morning? What are you passionate about? And how does this influence your creative life? (or does it?)
After spending the first 38 years of my life doing what everyone else expected me to do, the fact that I'm now able to make a living from doing what I truly love never fails to get me out of bed in the morning. I don't mind working my butt off – and trust me, I do – because I really, really love my work. If I do get discouraged, I'll get an email from a young reader telling me how my book helped them and it gives me the strength to keep going. I can't tell you how many times I've thanked my young letter writers for helping ME!
I'm truly passionate about literacy and education. I was born on first base – or even second and third – because I was born to literate parents in a house filled with books. I'm also passionate about the need to have certified school librarians in our schools, because librarians didn't just help to make me a reader, they helped to make me a thinker. The biggest mistake we've made in the Internet age is to think that we can dispense with librarians because kids can just Google things. The 2016 election is Example A of why we need librarians in schools teaching media literacy.
I view all of my jobs (author, political columnist, MFA adjunct, Writopia Lab instructor, and also member of Greenwich Representative Town Meeting) as being interrelated. Being an instructor at Writopia helps me keep in touch with the teen/tween voice now that my kids are older, and I love working with teens to help them discover their own voices. I just taught a workshop at the MFA residency for WestConn called WRITING FOR CITIZENSHIP, ADVOCACY, AND CAREERS – which discussed media literacy, persuasive writing, and how to file a FOIA request, amongst other things. I've used my platform as a political columnist to highlight education issues and also transparency and ethics, which are two issues I feel are very important in public life and in a democracy. My parents brought me up to believe in public service, so now I'm putting my money where my mouth is (or rather my time) and serving on the Greenwich RTM. There's much to be discouraged about in politics and the world, but we can either sit around complaining about it online, or we can get off our butts and actually try to do something about it. I chose to try to do something about it, using the skills that I've been given.
What advice would you give to a young person who thinks they'd like to write novels?
READ! Read widely across many genres. Read the news. And most of all, take an interest with the world around you. TALK TO PEOPLE. People, the way they relate to one another, and how they handle adversity can be an endlessly fascinating source of inspiration.
Then WRITE. Keep writing. At first you will write rubbish. Eventually, you will write better rubbish. Find people you trust who will tell it like it is. Cherish those people. Honest, constructive criticism is the best gift you can receive as a writer. Hone your craft, because writing is a craft. One day, the better rubbish will turn into something beautiful – and maybe that idea you had over ten years ago and tried writing several different ways will get you a two-book deal!
Thank you, thank you, thank you for this incredible advice and for joining me here today. You are seriously an inspiration.
You can connect with Sarah Darer Littman on her Website, Facebook, Twitter and Instagram. 
If you are in the Connecticut area, there are two book launch events you can attend:
CHARMED, I'M SURE on Thursday, September 27th at the Cos Cob Library, Cos Cob, CT.
IN CASE YOU MISSED IT on Sunday, October 23rd at the Ferguson Library, Stamford, CT.
You can find all of her books wherever books are sold!
Save
Save
Save
Save
Save
Save
Save
Save
Save
Save