I first met Daniella Bernett at a Mystery Writers of America New York Chapter event last year. At the time, she was about to release her first novel, LEAD ME INTO DANGER, an Emmeline Kirby-Gregory Longdon mystery. She joined me on this blog a year ago to share a "bite" of that novel. Today, I am thrilled to welcome Daniella back for a Creative Minds Interview! The second mystery in her series, DEADLY LEGACY, was released last month!

Daniella Bernett is a member of the Mystery Writers of America NY Chapter. She graduated summa cum laude with a B.S. in Journalism from St. John's University. Lead Me Into Danger is the first novel in the Emmeline Kirby-Gregory Longdon mystery series. She also is the author of two poetry collections, Timeless Allure and Silken Reflections. In her professional life, she is the research manager for a nationally prominent engineering, architectural and construction management firm. Daniella is currently working on Emmeline and Gregory's next adventure. Visit www.daniellabernett.com or follow her on Facebook at  or on Goodreads.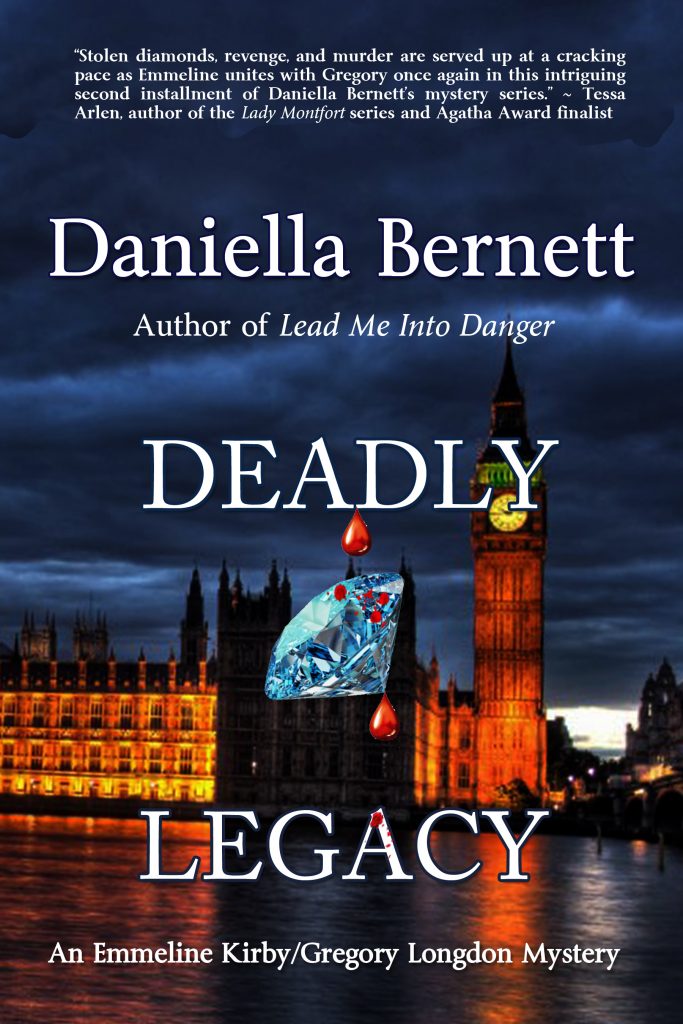 Thank you so much for joining me this month on Not Even Joking and congratulations on the release of your second novel, DEADLY LEGACY! How was the experience of writing this novel different from writing your first novel LEAD ME INTO DANGER?
I would have to say that I was more confident in myself and my characters when writing DEADLY LEGACY. However, I actually had the idea for the first few books in my head before I even started writing LEAD ME INTO DANGER. Since it is a series, I had to know how Emmeline and Gregory would evolve and what clues and plot twists to drop here and develop further in the next book. In terms of the writing itself, I found that scenes between Emmeline and Gregory or the cat-and-mouse exchanges between Gregory and Chief Inspector Oliver Burnell seemed to become more fluid as DEADLY LEGACY was unfolding.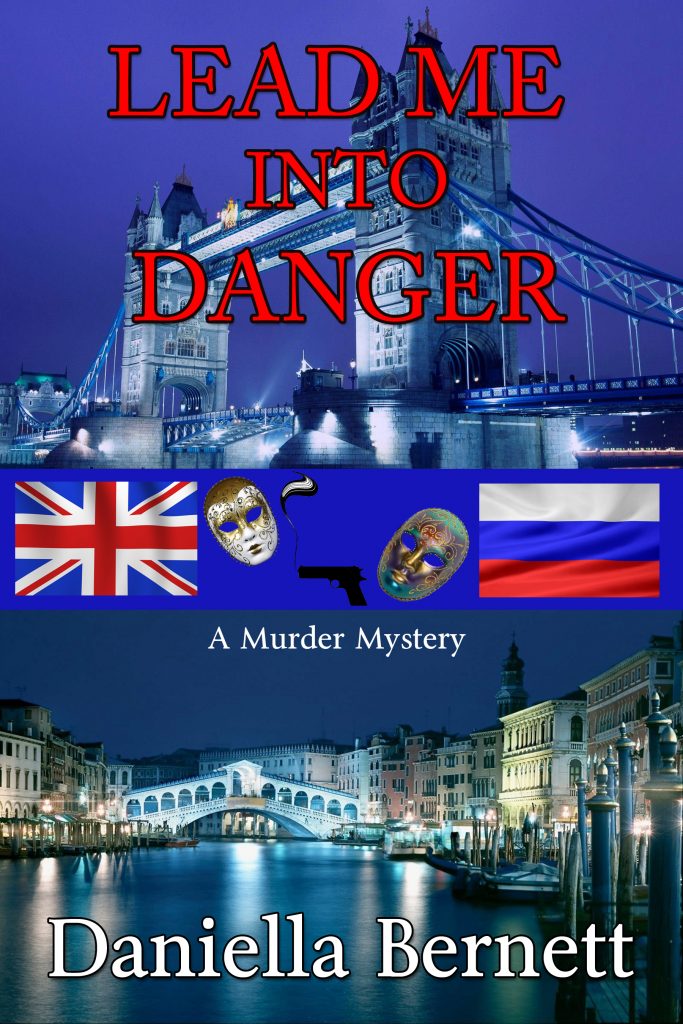 Your books contain so many interesting elements: murder, jewel thieves, spies and international settings! Where do you find your inspiration?
Inspiration is derived from all sorts of places. It could be a newspaper article; a snippet of overheard conversation; a real-life crime; or a dream. Of course, location plays an important role in my books. I've been an Anglophile since I was a little kid, so naturally my characters had to be British and London had to figure prominently in my books. I also adore Venice. That enchanted city's history of intrigues was simply begging to be featured in LEAD ME INTO DANGER.
I get a lot of ideas from the sights and sounds of a city or an area that has made a strong impression on me. You're either going to laugh or you're going to run very quickly in the opposite direction, but oftentimes I come across a place and think, "Wouldn't this be the perfect setting to find a dead body?"
Are you working on another Emmeline Kirby & Gregory Longdon Mystery? And if so, could you give us a little hint about what we might expect from it?
Yes, I am working on Emmeline and Gregory's latest adventure. I'm actually in the middle of Book 5. However, I would be happy to give you a tiny hint about what awaits them in FROM BEYOND THE GRAVE, Book 3, which will be released in 2017. The story is set in Torquay, Devon, on England's rugged west coast. It's supposed to be a restful holiday for Emmeline far from her recent harrowing escapes from spies and others with nefarious objectives back in London. She also needs distance to sort out her conflicted feelings for Gregory. But who should turn up out of the blue? You guessed it. The ever-charming, devastatingly handsome Gregory.  That's when secrets from his past—and murder—shatter the serenity of picturesque idyll.
What else gets you up in the morning? What are you passionate about? And how does this influence your creative life? (or does it?)
Reading. I'm a voracious reader. I think that as a writer one has to be a reader first and foremost. At heart, a writer is a reader who has given full vent to the story swirling around in his or her head. In my case, I've had a love affair with language and the written word since I was very young. As you might have surmised, I have a particular affinity for mysteries and spy thrillers. However, I also enjoy reading the classics, history, biographies, anything except science fiction and horror. (I wouldn't be able to sleep at night if I read those types of books.)
Another thing I'm passionate about is traveling. It's delightful to discover new places and meet people from different backgrounds. It broadens the mind and also serves as spark for my imagination.
What advice would you give to a young person who thinks they'd like to write mystery novels?
Again, I would tell an aspiring writer to READ. Read everything you can get your hands on. There are myriad subgenres under the "mystery" umbrella. Read books from each of these categories to get a feel for the pacing, moods evoked, subjects written about and the language. Read different authors to see how each handles the narrative and plot twists. In the end though, let these other books merely be your guides.  The most important thing is to write the story that you want to write and not what others tell you or what the current market trends are. To write a great story, you have to breathe it, live with it, and nurture it in your dreams and waking hours.
That is wonderful advice! Than you so much for joining me here today!
You can connect with Daniella on her website, Facebook and Goodreads. Her books are available on Amazon, B&N, from Black Opal Books, or where ever books are sold.
Daniella will be doing a reading and signing at the Mysterious Bookshop in Manhattan (58 Warren Street) on Friday, October 7 at 6:30 pm. You can pre-order a SIGNED copy here: http://www.mysteriousbookshop.com/products/daniella-bernett-deadly-legacy
Save
Save
Save
Save
Save
Save
Save
Save