I first met R.G. Belsky when we were reading from our mystery novels at KGB Bar in New York as part of a Mystery Writers of American New York Chapter event. At the time, he was reading from what was then his latest novel, SHOOTING FOR THE STARS, a mystery about a "closed-case murder of a Hollywood actress." Did someone say Hollywood? I was definitely intrigued! Since then, I have had the good fortune of getting to know Dick Belsky; we always seem to run into each other at  writing events like Brooklyn Bookfest, Thrillerfest, and various other mystery writer gatherings. His latest novel, BLONDE ICE was released last month, and it features a female serial killer!
R.G. Belsky is an author of crime fiction and a journalist in New York City. His new suspense thriller, BLONDE ICE, was published by Atria on October 18. It is the latest in a series of books from Atria featuring Gil Malloy, a hard-driving newspaper reporter with a penchant for breaking big stories on the front page of the New York Daily News. The first book in the Gil Malloy series – THE KENNEDY CONNECTION – was published in 2014 and SHOOTING FOR THE STARS came out in 2015. Belsky himself is a former managing editor at the Daily News and writes about the media from an extensive background in newspapers, magazines and TV/digital news. At the Daily News, he also held the titles of metropolitan editor and deputy national editor. Before that, he was metropolitan editor of the New York Post and news editor at Star magazine. Belsky was most recently the managing editor for news at NBCNews.com. His previous suspense novels include PLAYING DEAD and LOVERBOY.  He was the Claymore Award winner at Killer Nashville 2016 and also a Silver Falchion Finalist.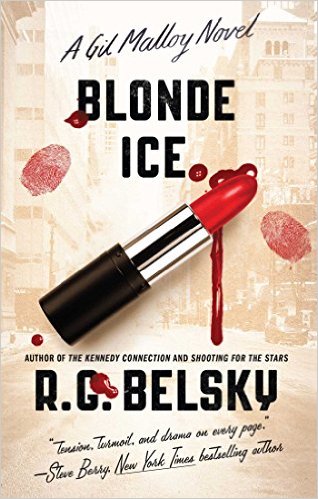 Thank you so much for joining me this month on Not Even Joking and congratulations on the release of BLONDE ICE! The novel is set during a New York City mayoral election…and its release during a major election season seems quite timely! Was your writing inspired by the current political climate?
Not really the current political climate, I based it more on the politics I've seen and covered in New York City for many years. And one of the biggest political issues here – thru mayors Ed Koch, Rudy Giuliani, Mike Bloomberg and now Bill DeBlasio – has always been crime. The mayor takes the credit or the blame for high profile crime cases/statistics. So I thought setting the hunt for a deadly female Son-of-Sam type serial killer during a mayoral election added extra drama to the story. And the fact that the killer is a sexy woman who's picking up and then murdering men for thrills raises the stakes even more when it comes to the potential political consequences in the ongoing mayoral race. 
I am a huge fan of serial killer novels…and particularly intrigued that BLONDE ICE features a female serial killer!  Were there certain real life serial killers that inspired this novel?
Well, that would have to be Son of Sam – which is the most famous serial killer story of my lifetime.  I covered the Son of Sam case as a young journalist at the Post in the 70s. So I lived through all of that terror and fear that gripped New York City, as David Berkowitz – who called himself Son of Sam – gunned down women and couples on the streets. It began slowly until people realized the murders were connected, then paralyzed the city through the so-called Summer of Sam in '77 and finally ended with relief when he was captured.
I try to recreate some of that in BLONDE ICE. Only this time the serial killer is a woman killing men, instead of women being the victims.  All the infamous real life serial killers – Ted Bundy, the Zodiac Killer, the Boston Strangler and Son of Sam – were men. There have been some women serial killers who murdered for profit or in a hospital out of some sort of "angel" motive. But I wanted to create a female Son of Sam or Ted Bundy type character. A woman (and, in my book, a beautiful and brilliant woman) who murders men simply for the thrill of it.
And Gil Malloy being a man means that, in addition to covering the story as a journalist, he will eventually become a target of her deadly game too.
Like Gil Malloy, you are a journalist. Does the similarity end there, or are you like Gil Malloy in other ways as well?
Well, he's certainly not me. Although sometimes I wish he was, because he seems to have a lot more fun than me. And he's not really based on any specific reporter. Let's just say that I ran across a lot of very colorful characters in the newsrooms I worked in over the years. People who were consumed with being first with the big story on the front page and were tremendous journalists. But their personal lives were often a mess because of their passion for the job. That's kind of like Gil's life. One of my favorite descriptions of him was from a reviewer who said: "Gil Malloy is not much of a friend, and he's a lousy husband – but he's one helluva great reporter." I've known a lot of people like that. And Gil is truly a sort of combination of a lot of these real-life journalists.
What else gets you up in the morning? What are you passionate about? And how does this influence your creative life? (or does it?)
Well, the two things I've enjoyed doing most in my life are working in newsrooms and writing mystery novels. I've published 10 novels in my lifetime so far, most of them written while I was working full time as a journalist. Clearly it had to be a labor of love for me to get up early every morning before going to a real newspaper to spend a few hours working on a novel about a fictional one. But actually both have always been great fun – and yet vastly different experiences. As I often say to people who wonder how I could do both things at the same time: "Working at in a newsroom means you spend most of your time making sure the facts are right – as a crime novelist I get to make the facts up!" Now that's fun.
What advice would you give to a young person who thinks they'd like to write mystery novels?
My advice is very simple, and I've given it to many people (with varying degrees of success) over the years. If you want to write a mystery novel, just sit down and write the damn thing. A lot of people talk about doing it, but you won't know if you have the ability and dedication until you actually try it. It can be a daunting task looking at that blank computer screen when you start – but there's no other way to be a writer than to write. It's the crucial first step before a writer can even think about anything else.
Two other things I'd like to mention:
I love the fact that one of the author cover blurbs for BLONDE ICE comes from Joe Eszterhas, the legendary Hollywood screenwriter who created movie femme fatale Catherine Tramel in "Basic Instinct." Joe and I went to college together at Ohio University and remained friends after that. His quote after reading BLONDE ICE was: "Blonde Ice is white-hot.  Even better than its title is Dick Belsky's thriller itself.  Read it and . . . burn, baby, burn!"
In addition to the serial killer plot and the political backdrop, BLONDE ICE also deals with all the changes in newspapers today. It's impossible to write a novel newspaper now without acknowledging the way more and more people get their news from online sources than print. So Gil is no longer the traditional reporter who runs to a pay phone to call his story into rewrite. Instead, he files immediately from a scene via Twitter, texting, livestreaming etc. and all the other modern social media tools. Web traffic has replaced number of papers sold as the No. 1 circulation goal he has to strive for with the sensational BLONDE ICE story.
Thank you so much for joining me here this month! Congratulations again on the release of BLONDE ICE!
Readers, you can connect with R.G. Belsky on his Website and on Facebook. and Twitter. You can find BLONDE ICE on Amazon, B&N, iTunes, Simon & Schuster, and wherever books are sold.
Save
Save
Save
Save
Save
Save
Save
Save