I first met author Catherine Maiorisi at the Brooklyn Book Festival a couple of years ago. I had just purchased a copy of the MURDER NEW YORK STYLE: FAMILY MATTERS, the New York-Tri State Chapter Sisters in Crime Anthology, and she signed my copy. I have since become much more involved with my local Sisters in Crime chapter, and as a result I've had the pleasure of getting to know Catherine at our meetings and post-meeting dinners. I am delighted to welcome her to NOT EVEN JOKING!
Catherine Maiorisi lives in New York City and often writes under the watchful eye of Edgar Allan Poe in Edgar's Café near the apartment she shares with Sherry her partner, now wife, of forty years. Catherine has published two full-length romances, Matters of the Heart and No One But You, both published by Bella Books. Bella will also publish Catherine's first mystery, A Matter of Blood in December 2017.
In addition to the novels, Catherine has published both mystery and romance short stories:
Justice for All in Murder New York Style: Fresh Slices
Murder Italian Style in Murder New York Style: Family Matters
The Sex Club in the Best Lesbian Romance of 2014 from Cleis Press.
Come as You Want To Be, a standalone eStory on bellabooks.com
You Will See a Stranger, in Happily Ever After, a Bella anthology
All's Well that Ends Well in a Bella anthology available July 2017
Love, Secrets, and Lies in Where Crime Never Sleeps (Murder New York Style 4) available September 2017
Catherine is active in the New York Chapters of Sisters in Crime and Mystery Writers of America. She is also a member of The Golden Crown Literary Society, Romance Writers of America, the New York Chapter of Romance Writers of America and the Authors Guild.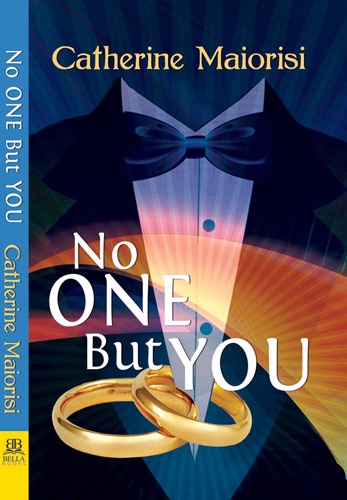 Thank you so much for joining me this month on Not Even Joking! Congratulations on the release of your novel NO ONE BUT YOU.  What do you think the main ingredient is in a well-crafted romance novel?
Two vibrant and engaging main characters with a strong attraction to each other who must overcome major obstacles before obtaining their happily ever after. And there absolutely must be a happily ever after. The challenge is to avoid clichés on the journey to the happy ending, to write a story that is more than just a mating dance.
I like to use the romance as a vehicle for exploring real life issues. For example, in my first romance, MATTERS OF THE HEART, one of my characters had a weak heart and by-pass surgery and the aftermath was a big part of the story. And in my second, NO ONE BUT YOU, I explore what happens after the happily ever after and the characters deal with the birth of a very premature baby and repressed memories awakened by the birth. The romance I'm writing right now involves postpartum psychosis, PTSD and parental kidnapping.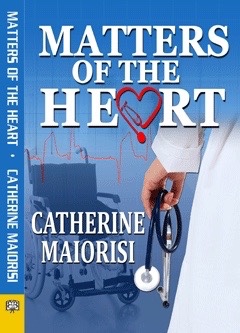 I first became familiar with your writing through your short mystery story, "Murder Italian Style." How does writing romance differ for you than writing mystery? (Or does it?)
Yes, for me, there is definitely a difference between writing a mystery and writing a romance.
I got into writing romance accidentally. I had never even read a romance before I wrote my first one, a short story. But since then, ideas for romances are constantly triggered by something I see or hear or read or dream that generates narrative or dialogue that I hear when I'm walking around or cooking or trying to sleep. Characters chattering in my head often wake me up. In order to clear my thoughts I write down as much of the story and the characters as I know at that time, give it a name, and put it aside. I currently have about thirty-five of these in various stages-snippets of dialogue, pages of actual writing, or just notes on how I think the story should go. Sometimes additional thoughts about one of these will arrive and I go back and add them to the document. When I'm starting a romance, full-length or short story, I go to this list and if anything seems right, I begin writing from there.
Mystery characters and story lines have never just appeared in my thoughts or been active in my mind in the same way as they have for romance. Instead, I've had to create them from scratch.
With the romances, once I have the characters the conflict comes out of who they are, their history, how they live their lives, and where they live, and the rest is writing the story.
The structure of mysteries is more complex and requires much more thought and many more elements. Though I'm not a planner or outliner, with a mystery I create the detectives and their conflicts, then worry about clues and red herrings, a victim, a murderer, suspects, a secret for everyone, and playing fair with the reader, i.e., giving them all the information they need to solve the crime with the detective but providing misdirection so they're surprised. I do a lot of this on the fly so there is much juggling of the elements as I write.
My writing process, though, is pretty much the same for both romance and mystery. I write scenes as they come to me, rarely in sequential order. I do character histories and analyses for the main characters. And I make short notes about scenes that I can see ahead. Some people call it writing into the mist. As I write a scene, it may trigger something that needs to be changed or added in an earlier chapter and I'll go back and make the change. Sometimes it will trigger another scene and I'll make notes on it. My goal is always to get a first draft written. That rough draft contains the basic story and from then on my writing is iterative, adding, deleting, changing, correcting until I have the story I want, written to the best of my ability.
And speaking of mysteries, you have a mystery novel coming out in December. Could you share a little about it?
A MATTER OF BLOOD is the very first book I wrote. I had just retired and was trying to figure out what came next. I tried watercolors but the process didn't really touch me, so I challenged myself to write a mystery. I wasn't thinking about publication. I just wanted to see if I could. After staring at a blank screen for a few days, I acknowledged that I didn't have the vaguest idea of how to construct a novel. So I set out to educate myself and began what became a self-defined nine-month independent study program of reading everything I could find on writing. When I finally started to write, it took me about four months to complete the manuscript. I use complete loosely here. Though I had a full-length (100,000 words) novel it wasn't anything I could show to someone else, so I started rewriting. I continued to read about writing, joined several professional mystery-writing organizations and began to take writing workshops.
In the thirteen years since I completed that first draft of A MATTER OF BLOOD, I've rewritten it at least forty times, retaining the basic story but rewriting the characters, the killer and just about everything except the victim. When I finally showed it to my wife Sherry, a theater director experienced with working with playwrights, she pointed out that some of my paragraph length sentences were maybe a wee bit long, then asked me lots of questions that sent me back to the drawing board. While continuing to rework A MATTER OF BLOOD I wrote the second book in the Chiara Corelli series, many short stories, published and unpublished, and three full-length romances. I love this book and I'm really excited to be able to share it with readers of mystery.
 A MATTER OF BLOOD, which will be published in December 2017, features NYPD Detective Chiara Corelli an Iraq War vet and principled cop who finds herself on the other side of the blue line after exposing a ring of dirty cops. Corelli's boss says she can only work if she has someone she trusts to watch her back. Her choices: work with newly minted Detective PJ Parker, the daughter of a vicious public critic of the NYPD, or be stuck behind a desk. She'll take her chances with Parker.
Working with the most hated detective in the department won't do much to improve Detective Penelope Jasmine Parker's already shaky standing with the blue brethren. But Parker's goal is homicide and working with Corelli is her only chance of getting it. And, P.J. Parker always achieves her goals.
Reluctantly, Corelli and Parker partner to investigate the murder of a Wall-Street businesswoman, a greedy user and abuser, hated and feared by many. But working together is not easy. Parker thinks Corelli is crazy or suffering from PTSD and putting unreasonable pressure on her, yet she saves Corelli's life.  Corelli, still dealing with the death of her lover Marnie when they were in Iraq, is shaken by her visceral attraction to a female suspect, saves the life of the son of a Mafia boss, and solves the murder.
What else gets you up in the morning? What are you passionate about? And how does this influence your creative life? (or does it?)
Writing is my passion. Writing gets me out of bed in the morning. Writing is like meditating for me; it takes me out of myself and centers me. I write just about every day. I don't have a strict schedule but I read the newspaper with breakfast, then unless I have something I must do like a doctor's appointment, I sit down and write for anywhere from four to eight hours depending on whether I'm cooking dinner that day. After dinner I read. Reading is my other passion and I usually read until eleven or twelve and sometimes beyond that if a book captures me.
A good deal of my life is focused on things related to writing. For example, I'm active in Sisters in Crime and Mystery Writers of America and attend their monthly meetings. I'm Co-President of the New York Chapter of Sisters in Crime. I attend conferences like the Golden Crown Literary Society, a lesbian writers and readers conference, and the New England Crime Bake, a mystery writer's conference. In July, I'll be attending my first Romance Writers of America conference. Also, since my first romance was published in June 2016, I've been doing readings and presentations in various venues in and outside of New York City.
Except for Grey's Anatomy and Rachel Maddow, I don't watch TV.
What advice would you give to a  person who thinks they'd like to write?
Read, read, read everything but especially the genre you're interested in writing. And then spend time learning the craft of writing. Read books on writing, take workshops, attend writer's conferences, find a writer's group, and join professional organizations focused on the genre that interests you. Write, write, write. The more you write, the better your writing will become. Finally, be patient. Don't put your writing out there too soon.
Groups like Sisters in Crime, Mystery Writers of America, and Romance writers of America (every genre has them) offer programs and workshops to help members improve their skills and learn about the publishing industry.
That is really great advice. You are truly an inspiration. Thank you so much for joining me here today, and I look forward to seeing you at a Sisters in Crime meeting in the very near future!
Readers you can contact Catherine on her website:  http://www.catherinemaiorisi.com  on Twitter @CathMaiorisi and Facebook.
Catherine's books are available at Bellabooks.com, Amazon and Barnes and Noble.