Today, I am delighted to welcome fellow mystery author and Sister in Crime Martha Reed to Not Even Joking!
Congratulations on the release of your new book, NO REST FOR THE WICKED!
Thanks, Nina. I'm very excited about this one. No Rest is book three in the Nantucket Mystery series, but as soon as I sat down, it felt like this was the book that I wanted to write. It was the strangest thing. I typed in Chapter One, and the story just flowed, like I was watching a movie. Each day, when I returned to my keyboard, the story was there, waiting for me to continue. My subconscious clicked into hyper-drive. That hasn't always been the case, since I generally tend to noodle around more with my ideas.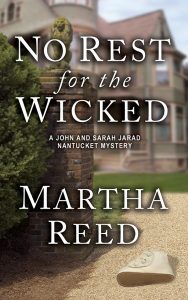 Here's a synopsis: Detective John Jarad's world explodes when state archaeologists uncover a suspicious steamer trunk buried in Nantucket's landfill. The contents reactivate intense interest in the Baby Alice Spenser kidnapping of 1921. As John pursues the investigation, myriad family scandals emerge from the Spenser's privileged and Gatsbyesque past. Modern day events flare white-hot when a copycat kidnapper snatches a second child. No Rest is garnering 5 star reviews.
As you know, writing can be a very solitary pursuit. It's taken me years to get to the place where I can shut out the real world, quiet my mind, and ruminate on my new story ideas. Don't get me wrong, it's my very favorite thing to do, but it can get lonely, since it involves enforced solitude for hundreds of hours. That is hard for me, because I'm a naturally gregarious person. My recompense for all of this effort is that I get to go to conventions.
Which conventions have you attended?
Malice Domestic was my very first one. Its focus is traditional and cozy mysteries. It makes me laugh now to remember how intimated I felt walking into that Bethesda hotel lobby. My sister Joan went with me, and when we got home, our other sister Boo-Boo asked: "So? How was it?" Joan said that when she opened the door and looked inside, she saw 300 Marthas walking around. She was right. I had found my people.
Since then, Bouchercon has become an annual habit. Bouchercon is my favorite convention. Not only is it huge, with over 2,000 registered attendees; its focus is the entire crime fiction, mystery, and thriller universe. It's also held in a different location each year, which gives me an excuse to fearlessly travel to strange new cities, and after all this time, meet up with my friends, usually in the hotel bar.
Bouchercon 2016 New Orleans was an exceptional experience. The B'Con planners really hit it out of the ballpark with that one. NOLA offers a naturally creepy setting, and some friends and I enjoyed a late night Vampire tour through the French Quarter that gave me a lot of material for my next stand-alone novel. Conference attendees also participated in a second line brass band parade as part of the Anthony awards ceremony. We turned out en masse. Our parade blocked NOLA rush hour traffic. The honking car horns added to the fun. Sidewalk gawkers asked: "Who are you people?" We shook our parasols and shouted: "We're crime fiction writers!" Befuddled is the verb I would use to describe the looks we got during that parade. Usually, crime fiction writers only misbehave on paper.
If you'd like to personally review the evidence, here's a link: https://www.youtube.com/watch?v=_fkx25jSHeE
Another great thing about conventions is how accessible everyone is. It really does make you feel like you belong to a larger crime fiction community. I've had the honor of meeting Hank Phillippi Ryan in Cleveland, Sue Grafton and Louise Penny in Albany, and Sarah Paretsky in New Orleans. It's just so easy to strike up a conversation. All you need to do is to say: What are you working on? And you're off to the races.
There are some terrific regional conferences, too. Killer Nashville featured four days' worth of writer panels and insightful author events, and it was held over Halloween weekend. You should have seen the costumes at the Sisters in Crime Favorite Sleuth/Favorite Crime Character party. I noted a couple of Sherlocks and one Hercule Poirot, but the real standout was an Amelia Peabody in full Victorian dress including button boots.
Bouchercon 2017 is being held in Toronto, Ontario, Canada, in October this year. I've also registered for CrimeBake New England in Boston, Massachusetts, in November. With a series set on Nantucket, I'm well aware of northern winters and fluky weather patterns, but I'm staying optimistic, and hoping  for the best. Now that I'm really looking at that schedule, it's starting to sound like a game of Clue!
Thank you so much for joining me here! I hope to see you at a mystery conference soon!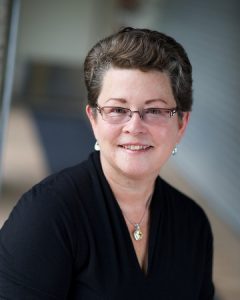 Martha Reed is the award-winning mystery and crime fiction author of the John and Sarah Jarad Nantucket Mystery series.
Book 1, THE CHOKING GAME, was a 2015 Killer Nashville Silver Falchion nominee for Best Traditional Mystery. THE NATURE OF THE GRAVE, Book 2, won an Independent Publisher (IPPY) Honorable Mention for Mid-Atlantic Best Regional Fiction. Book 3, NO REST FOR THE WICKED was a 2017 Independent Publisher IPPY nominee in the Mystery/Cozy/Noir category.
Martha's short work has appeared in Pearl, Spinetingler, Mysterical-e, and in Mystery Readers Journal. Her short story STRANGLER FIG appeared in LUCKY CHARMS: 12 Crime Tales, an anthology published by the Pittsburgh chapter of Sisters in Crime, Inc.
Martha recently completed a four-year term as the National Chapter Liaison for Sisters in Crime, Inc. She loves travel, big jewelry, and simply great coffee. She delights in the never-ending antics of her family, fans, and friends, who she lovingly calls The Mutinous Crew. You can follow her online online at reedmenow.com or on Twitter @ReedMartha.
Save
Save
Save
Save
Save
Save
Save
Save