I am delighted to welcome fellow International Thriller Writer Melodie Winawer to my blog today! Her novel, THE SCRIBE OF SIENA, was released earlier this month.
How Can a Novel Be Novel?
By Melodie Winawer
I'm a neuroscientist, neurologist, and novelist.   Despite the logistical nightmares of that combination, it provides some surprising intellectual benefits—and not because my novel is about neuroscience. (In fact, it isn't. But more about that later).
I submitted three grants to the National Institutes of Health (NIH) in the past six months –right as my first novel was heading towards publication. Recently, the NIH developed a new system to evaluate submitted grants, divided into five key areas: Significance, Investigators, Approach, Environment and Innovation,.  Most of these are straightforward, but Innovation is not so obvious.
Merriam-Webster dictionary calls innovation the "introduction of something new." But when you start thinking about what new really means, things get complicated.
In science, there has to be a foundation for research—either prior evidence that the new study has some likelihood of succeeding, or that it helps answer an important question.  Most research is based, at least in part, on what has come before.
So how is innovation compatible with the requirement for what is, essentially, being derivative?  How new can you be new without being so new that your grant will be doomed because of lack of preliminary data or evidence of plausibility?
Science, you might be thinking, science is so rigid, compared to fiction. Wow, I'm really glad I write fiction.  I too am glad I write fiction, for many of the same reasons. In science, everything I do has to rely on systematic production and reporting of evidence.  In fiction, I get to make things up, which is heavenly.  But, it turns out, science and fiction share a similar problem: doing something "new" is nearly impossible.
I recently started thinking about classic story lines, and how they get recycled. Some examples:
Long hidden secret shatters a family's peace
Love from the past looms up to unravel a stable marriage
Good and evil battle each other in an epic tale playing out in a fantastical world
Faith overcomes tragedy
Lovers from feuding families pursue their dream despite dangers
They've all been written before, more than once. And they will probably be written again. Even if your plot isn't in that short list, some aspect of it probably has shown up in one form or another, somewhere else. And so has mine.  But does that mean there is no point writing? That there is nothing new left to invent? What avenue does a poor writer have to be creative?
In fact, science, for all its rigidity, has given me one good answer: combinations. One way to make something new is to take old things and put them together in unexpected ways. I've published more than 50 scientific articles, and the one that has gotten the most media attention is  a study in which I did just that.  My research focuses on epilepsy genetics. But working as part of a large collaborative study called the Epilepsy Phenome/Genome Project, I decided to look at whether migraine and epilepsy have shared genetic causes.  This had been studied before, but never proven in large studies of common forms of epilepsy and migraine. In our study of hundreds of families in which multiple people have commonly occurring types of epilepsy, we made the first demonstration of a shared genetic effect on epilepsy and migraine.
Right after the paper was published, I was startled to hear I'd won an award from The National Headache Foundation for best paper of the year, though I'd never done any previous research on headache!  And it got me thinking that the excitement over what I'd done arose because I crossed lines dividing two fields, because I approached headache research with what I knew about epilepsy. Innovation came from the fact that I was interested in combining disorders and studying them together, rather than viewing them separately.   I'd done novel headache research because I was new to it, bringing principles that came from somewhere else.
Recently, my spouse decided to start studying linguistics.  This means we've been having some fascinating dinner table conversations–or trying to, as our three children fight over who is going to talk first. But one of the most interesting concepts we've all been discussing despite these challenges, is "discrete infinity". This fabulous term would make a great title for a novel, or maybe an indie band. In linguistics it refers to one element of human language that differentiates it from animal communication. It means that we humans, with our multi-letter alphabet and large but finite number words, have an infinite number of combinations of things we can say.
And this is true of writing, too.  There may be only so many basic elements that make up a story, but the number of combinations of those elements is infinite. Those of us who write in English share the same words, but we all put them together differently. This is both dizzying, and, I think, comforting. Because if, despite the fact that everything seems to be derivative, there are an infinite number of new subjects to focus on and new ways to write, then we're all capable of innovation.  We can all, through our particular ways of putting things together, write something new—not just once, but over and over again.
Melodie Winawer is a physician-scientist and Associate Professor of Neurology at Columbia University. A graduate of Yale University, the University of Pennsylvania, and Columbia University with degrees in biological psychology, medicine, and epidemiology, she has published over fifty nonfiction articles and book chapters. She is fluent in Spanish and French, literate in Latin, and has a passable knowledge of Italian. Dr. Winawer lives with her spouse and their three young children in Brooklyn, New York. The Scribe of Siena is her first novel.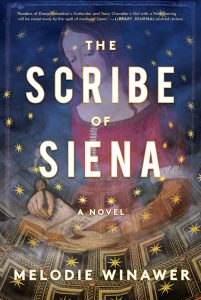 THE SCRIBE OF SIENA (Touchstone, May 2017)
Equal parts transporting love story and gripping historical conspiracy, debut author Melodie Winawer takes readers deep into medieval Italy, where the past and present blur and a twenty-first century woman will discover a plot to destroy Siena.
Accomplished neurosurgeon Beatrice Trovato knows that her deep empathy for her patients is starting to impede her work. So when her beloved brother passes away, she welcomes the unexpected trip to the Tuscan city of Siena to resolve his estate, even as she wrestles with grief. But as she delves deeper into her brother's affairs, she discovers intrigue she never imagined—a 700-year-old conspiracy to decimate the city.
After uncovering the journal and paintings of Gabriele Accorsi, the fourteenth-century artist at the heart of the plot, Beatrice finds a startling image of her own face and is suddenly transported to the year 1347. She awakens in a Siena unfamiliar to her, one that will soon be hit by the Plague.
Yet when Beatrice meets Accorsi, something unexpected happens: she falls in love—not only with Gabriele, but also with the beauty and cadence of medieval life. As the Plague and the ruthless hands behind its trajectory threaten not only her survival but also Siena's very existence, Beatrice must decide in which century she belongs.
The Scribe of Siena is the captivating story of a brilliant woman's passionate affair with a time and a place that captures her in an impossibly romantic and dangerous trap—testing the strength of fate and the bonds of love.
Save
Save
Save
Save