I am delighted to have fellow International Thriller Writers member, Amy Shojai, as a guest on my blog today! Today she shares with us some of the inspiration behind her novel SHOW AND TELL.

DOGFIGHTING, PIT BULLS & LAWS HELPING KIDS
By Amy Shojai
As an author I wear a couple of different hats, and am a certified animal behavior consultant and pet advocate. As such, my mission is to use my work and words to educate pet lovers to empower them to make informed decisions for their animal companions. I do this in my nonfiction prescriptive books, and through entertaining thrillers with pet-centric themes. I knew that my most recent book SHOW AND TELL would include dogfighting, but didn't want to focus so much on the horror as on the problems of this crime. And shine a light on how law enforcement now takes dogfighting more seriously.
The notorious Vick dogfighting case spurred public outcry about this horrendous animal abuse crime. It's surprising to me that was the first time ever that dogs were treated not only as evidence–but also as victims.
It's not just the fighting dogs that are victims. Other animals such as cats, small animals like rabbits and even puppies may be used to train the dogs to fight. Yes, that's incorporated in the SHOW AND TELL plot, but I never read (or write) on-stage "kill the dog" scenes—that's a furry line I refuse to cross in my writing. My animal behaviorist hero and her service dog Shadow would never forgive me (and I couldn't forgive myself!). While I know many folks abhor the idea of dogfighting, and rightly so, y'all may not be aware of how law enforcement and the court system sees this.
Law enforcement now considers dogfighting and cockfighting a venue that also typically involves illegal drugs and guns, and as such, reports of dogfights no longer are relegated to the local animal control/cruelty division as in the past.
DOGFIGHTING AND THE LAW
In May 2013 I had the opportunity to visit the Crime Museum in Washington, DC (which sadly has since closed last fall). I spoke with Dr. Randall Lockwood, senior vice president of ASPCA Forensic Sciences and Anti-Cruelty Projects, about new initiatives in dealing with dog fighting, and visited the Dog Fighting Exhibit. Much of the fighting paraphernalia displayed there ended up in SHOW AND TELL, including the canine "rape stand." *shudder*
Since 2008, it has been a federal felony to sponsor, exhibit, buy, sell, deliver, possess, train or transport an animal for participation in an animal fighting venture. This crime is punishable by a term of imprisonment of five years and a fine of $250,000.
But until recently, being a spectator at a dog fight was only a misdemeanor in 24 states. In many states spectators must pay a small fine with no jail time. Meanwhile, what horrors have they exposed their kids to, and modeled as "normal" behavior–cruelty to animals. And again, yes, one of my characters in SHOW AND TELL was brought up in a culture in which dogfights were "normal."
With help from animal advocacy groups including the ASPCA, The Animal Fighting Spectator Prohibition Act, which was included in the final 2014 Farm Bill, makes it a federal felony to knowingly bring a minor under the age of 16 to a dogfight or cockfight, punishable by up to three years in prison and a $250,000 fine, and a federal misdemeanor to knowingly attend a fight as a spectator, punishable by up to one year in prison and a $100,000 fine.
My mystery writing colleagues are well versed in all things FBI and even know about CODIS–Combined DNA Index System–used to help track criminals in real life. The authors learn about CSI and evidence, police procedures and more to ensure the stories are as real as possible. Today, forensic science used in real life to catch bad guys for crimes against people has also been made available for furry victims. Yes, veterinary CSI uses many of the same scientific bells and whistles, and I say it's about time!
VETERINARY CSI
To combat the crime of dogfights, the Missouri Humane Society, the ASPCA, the Louisana SPCA and the University of California-Davis Veterinary Genetics Laboratory collaborated to establish the first ever database. Canine CODIS  helps identify the bad guys involved in the dog fight industry by tracking doggy DNA. Can you see my virtual tail wagging!
When writing thrillers, authors want to offer vicarious chills and spills in a roller coaster ride along the way, and a ticking clock increases the stakes and tension. A real life ticking clock measures living heartbeats that can be saved by supporting change and championing the innocent victims–dogs and children–and stamping out the specter that labels Pit Bulls as villains when it's the two-legged criminals that are the real evil. I hope that SHOW AND TELL helps shine a virtual spotlight on both the true villains and real heroes in this canine and human tragedy.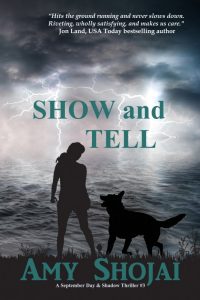 SHOW AND TELL by Amy Shojai
SHOW AND TELL is the 3rd installment of Shojai's dark, female-driven domestic thriller series featuring pet-centric plots: An animal behaviorist and her service dog race a deadly storm to expose a treacherous secret others will kill to protect. 
A BLACKMAILER returns to sell a deadly cure.
A MOTHER'S DENIAL dooms millions of children.
AND A DOG shows true loyalty…when he runs away.
With her stalker finally caught, animal behaviorist September Day's PTSD has abated and she's begun to trust again. She dares to hope Detective Jeff Combs might become more than a friend, until his investigation into a dogfighting ring leaves her reeling.
Shadow wrestles his own demons. A German Shepherd autism service dog before losing his-boy to a health crises, Shadow found love and his true purpose working with September. Now his-boy is back–but changed–and Shadow fears he'll be forced to choose.
When a desperate mom demands help, and Combs's son disappears with his dog, September and Shadow must find the children before a devastating storm hits. But the children have a secret plan of their own. Only when September shows true courage, and a good-dog tells the truth, can they find their way home again.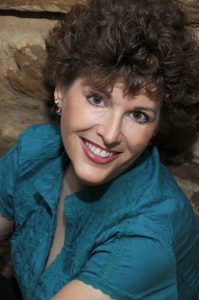 Amy Shojai is a nationally known authority on pet care and behavior, a certified animal behavior consultant, and the author of 30 nonfiction pet books. She also writes THRILLERS WITH BITE! which includes the pet-centric thrillers LOST AND FOUND, HIDE AND SEEK and SHOW AND TELL, and the Keiki and Lia (Lei Crime KindleWorld) novellas.
Amy has been featured on ABC, NBC, CBS, CNN, and in USA Weekend, The New York Times, Washington Post, Reader's Digest, Woman's Day, Family Circle, Woman's World, and She has also been a featured pet care expert on Animal Planet Dogs 101, Cats 101, Petsburgh USA/Disney Channel program, Good Day New York, Fox News: Pet News, NBC Today Show, WGN-Chicago "Pet Central" and "Animal Planet Radio" and many others
She is an active member of the International Thriller Writers, certified member of International Association of Animal Behavior Consultants, founder and Past President of the Cat Writers' Association, member of the Dog Writers Association of America, and Past President and Honorary Lifetime Member of Oklahoma Writers Federation, Inc. She frequently speaks to groups on a variety of pet-related and writing issues, lectures at veterinary and writer conferences, and conducts training and behavior demonstrations around the country.
She and her husband live with Seren-Kitty the 21-year-old Siamese wannabe, Magical-Dawg the German Shepherd, his best friend Karma-Kat and other assorted critters at Rosemont, their thirteen-acre "spread" in north Texas.
Connect with Amy on her website, on Facebook, on Twitter and on Amazon.
Save
Save
Save
Save