I never planned to learn Norwegian.
Brush up on my Spanish. Absolutely. Get really fluent in Russian (my fast-fading first language). Of course. Be able to speak French with confidence. Definitely on my bucket list.
But Norwegian? It just never occurred to me.
Until we planned our family vacation to Norway last month.
Visiting Norway had been on someone else's bucket list. My husband's mother had always wanted to go, and never did. My husband became determined to fulfill her dream. Ancestory.com recently confirmed that he's part Norwegian, making this trip more than a vacation, but a chance to get in touch with his roots.
The coming of the New Year filled us with a Carpe Diem mentality, and by early January we had booked a trip for this summer.
I hear that most people in Norway speak English. But I don't want to travel somewhere where I can't count to three. I want to be able to say thank you in someone's native tongue. 
So last month, I made a decision.
I will learn Norwegian.
It's the best thing I have ever done for myself, at least in recent years. In fact, I can't believe I haven't spent the last 20 years of my life studying other languages.
Charlamagne said, "To have another language is to possess a second soul." I'm only on lesson 21 of the Pimsleur Norwegian, but I definitely agree with Charlamagne. Plus, now I can confidently order a drink in a restaurant in Norway. I can ask where the bathroom is.
I can say the bizarrely difficult "Pleased to meet you."
I find myself enjoying my morning commute, excited for whatever new words I will encounter along the way.
I'm so excited about learning Norwegian, that I'm actually blogging again after a majorly long hiatus!
But why stop with the language? Why not thoroughly immerse myself in Norwegian culture?
I've already read plenty of Ibsen. What I haven't read enough of is Norwegian crime novels.
On my last trip to The Mysterious Bookshop, I picked up a few.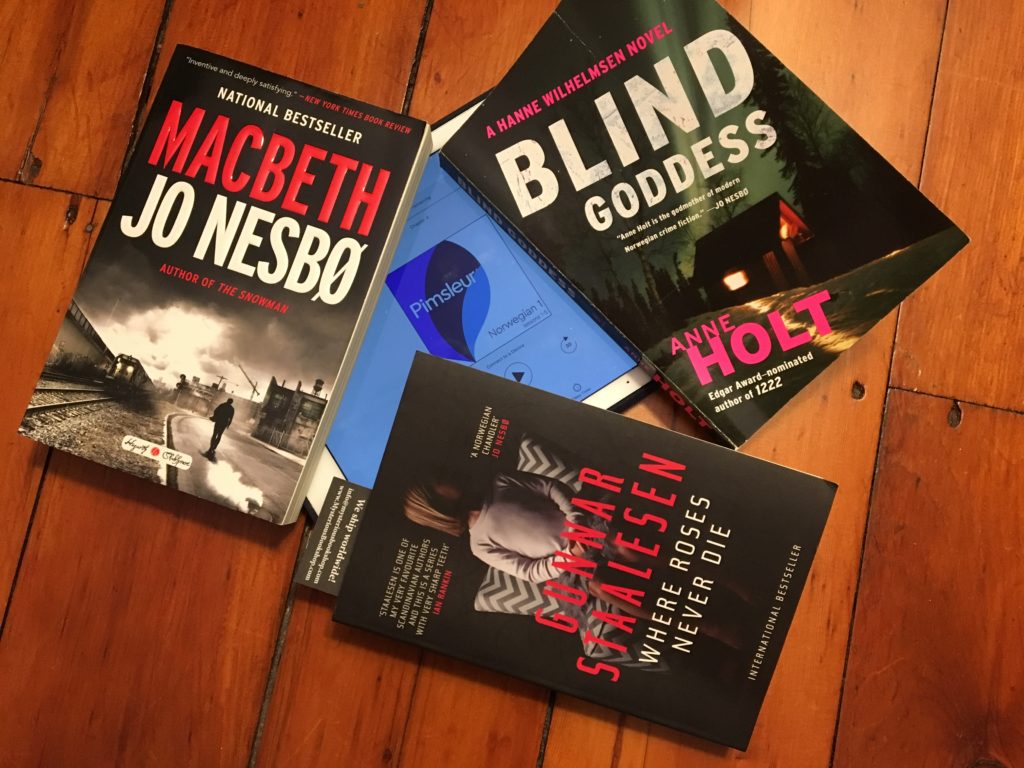 I also just listened to my first Jo Nesbo novel, The Bat. I was a little disappointed to discover that it takes place in Australia, rather than in Norway— but nevertheless, it was a great book. There will be much more of Harry Hole in my future. I'm now reading and enjoying Gunnar Staalesen's Where Roses Never Die, which takes place in and around Bergen.
I realize that crime novels and Ibsen are just a very small part of Norwegian Culture. I came across THIS list of must read Norwegian titles, which I've added to my Goodreads TO READ list.  A friend also recommended that I watch New Scandinavian Cooking, which I plan to do.
If you have suggestions for how I might further immerse myself in Norwegian culture prior to my trip, please leave them in the comments below.
Takk for å lese og til senere.