I am excited to welcome Agatha-nominated and Amazon Bestselling author Edith Maxwell to the blog today. She is one of the Wicked Cozy Authors, a blog that you should really check out if you are into cozy mysteries. She also writes as Tace Baker and Maddie Day. Today, she shares about her soon to be released historical mystery DELIVERING THE TRUTH (Midnight Ink, April 8, 2016) and a recipe for Blueberry Grunts. What the heck are grunts? I didn't know either… but they sound delicious!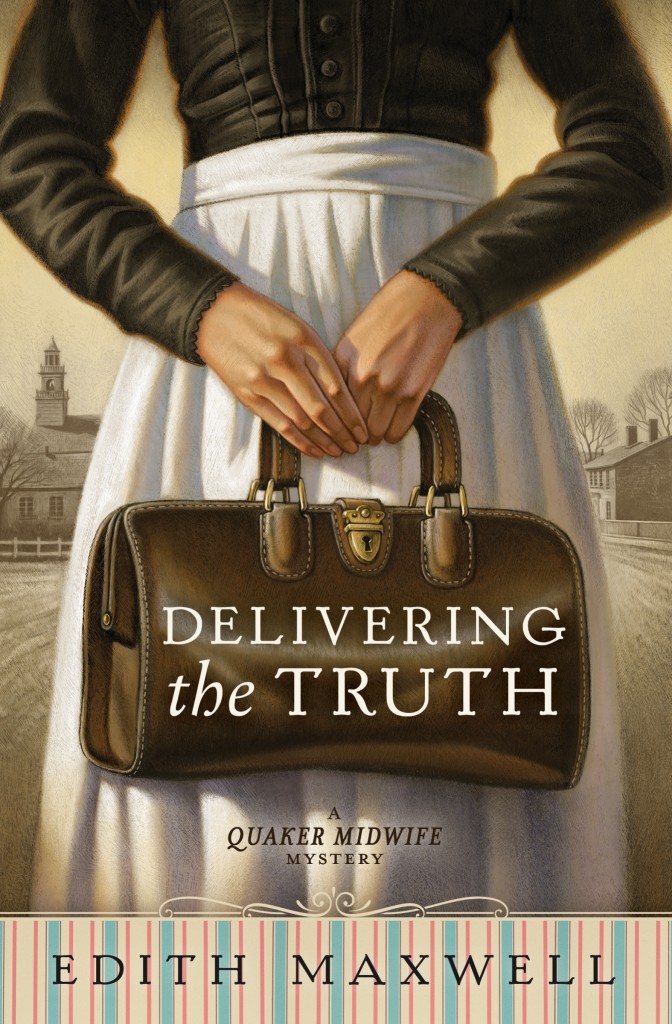 Who is your main character? Tell me about her.
Quaker midwife Rose Carroll is a twenty-four year old independent businesswoman devoted to caring for her pregnant clients and delivering their babies safely at home in an 1888 Massachusetts mill town. She's also unmarried (so far), a good listener, a keen observer, and a somewhat unconventional member of the Society of Friends who has a talent for identifying murderers. The real Quaker abolitionist and poet John Greenleaf Whittier is a secondary character in the series, helping and advising Rose from time to time.
What would Rose choose for her last meal?
Quakers live simply, so Rose would choose a piece of perfectly roasted chicken with fresh herbs, new potatoes topped with fresh dairy butter, a dish of lightly sautéed spring asparagus, and a blueberry grunt with fresh creato finish, accompanied by a glass of local apple cider.
How about you? What would you choose for your last meal?
I'd be more than happy with Rose's meal! But I think I'll choose Cajun shrimp in a spicy tomato sauce on cheesy grits, sun-warmed gold tomatoes dressed with basil and a good olive oil, garden greens, and a slice of chocolate cheesecake, accompanied by multiple glasses of a hearty red wine.
Why should someone bite into DELIVERING THE TRUTH?
Reviewers have already found this book to be a fascinating – and accurate – look into the past. Beyond being an intriguing crime story, it offers readers a glimpse of the practice of midwifery, familiarity with the lives of Quakers in a changing culture, and a snapshot of a rapidly changing technological world.
Do you have a recipe you'd like to share?
Grunts were common desserts in America in the 1800s. It's said they were called that from the noise made by the berry mixture bubbling under the biscuits. Or maybe it's from the sound you'll make after eating two of these topped by heavy cream.
Blueberry Grunt
4 cups blueberries (frozen or fresh)
½ c cup sugar
½ cup water
1 tablespoon cornstarch mixed in 2 tablespoons cold water
1 teaspoon lemon juice
1 tsp cinnamonhist
2 cups flour
¼ cup sugar
2 teaspoons baking powder
½ teaspoon salt
2 tablespoons butter
1 cup milk
Instructions
In a cast iron skillet, combine the berries, sugar, and water. Bring to a boil and then reduce to a simmer. Add the cornstarch mix and stir for one minute. Remove from heat, add the cinnamon and lemon juice, and set aside.
Combine the flour, sugar, baking powder and salt in a bowl. Cut in the butter, then add the milk and combine until just mixed. Do not over mix.
Dust your hands with flour, then roll flour mixture into eight balls and drop them onto the berry mixture. Place the pan on medium heat, cover, and simmer for 15 minutes. Do not lift the lid. The biscuit topping is steaming itself in the berry juices.
Serve warm with heavy cream or ice cream.
Both the grunts and your book sound amazing! Wow! One of these days I am going to have to pick your brain about your research process. And by the way, I recently read your Agatha nominated short story "A Questionable Death," and I loved it! It was such a great introduction to Rose Carroll.
You can find out more about Edith Maxwell on her website. You can also learn more about The Quaker Midwife Mysteries by clicking HERE. And you can pre-order DELIVERING THE TRUTH on Amazon.
You can also read "A Questionable Death" for free over at King's River Life. I highly recommend it!
[subscribe2]